For over 20 years Franca worked in social services. Then her childhood dream of allying Art and Fashion resurfaced: she hence became an artist and designer helping others.
She has an acute sense of psychology which is her greatest source of inspiration and has the ability to convey it all through her creations.
She has never forgotten wandering around the textile workshop where her grandfather and grandmother worked in Tuscany (Italy). When touching fabrics, she already imagined herself making the clothes she admired in shop windows of reputed designers in Florence (Italy).
When she switched to fashion, Franca wanted to create an engaged label in line with the humanitarian values she has always defended. Being an environmentally responsible player in the fashion and clothing design world is not an easy task as we have to rely on others.
So this is Franca's personal challenge: to award great importance to the manufacturing process and to discerningly chose her suppliers and partners.
Utmost respect for both people and the planet are the priority for each step of her creations.
A Made-in-France label
In 2015, Franca opened a design studio in her native Alsace to create her fashions and handmade patterns. All the production aspects are done in Alsace contributing to the preservation and development of artisanal and local know-how.
Franca personally chooses the fabrics and notions. For the most part they come from Tuscany (Prato, Italy) located near Florence and globally known for its know-how concerning luxury and high-end products. And when she travels around, she checks the quality and ethical awareness of her suppliers.
The lace comes from Italy and France, mainly in Calais.
An ethical and responsible label
Some of the fabrics are made of recycled polyester which is very innovative. Franca continues to look for fabrics which are environmentally responsible and thus good for the planet.
Fabrics are digitally printed out in Alsace using her paintings and drawings.
The company she chose is very aware of issues regarding energy and recycling. She uses OEKO-TEX approved inks and recycles printed paper. The digital printing process requires little energy.
All leather goods are made by a native Italian artisan from Florence to preserve this slowly vanishing know-how. Leathers are bought from an Italian manufacturer who respects the specific European standards and requirements.
The copies of her paintings, all hand-signed by Franca, are made by workers with disabilities.
Franco decided that if she wanted to spread happiness, then she might as well work in a responsible manner, preserving both the fabric professions and fashion know-how. Today she participates in the regional economic development and your purchases contribute to preserving these local know-hows.
Thanks for your loyalty and support
Femininity enhanced
All women wearing Franca's creations can confidently reconnect with their femininity and look fantastic. The creator adapts her designs according to the morphology and needs of each woman.
Through her creations she invites them to enter her world, to feel a sense of well-being and become more in touch with themselves.
Her objective to put a smile back on the faces of women who needed some guidance in finding their femininity.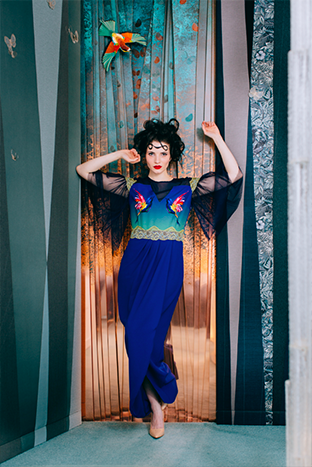 A positive label: a life philosophy
In her work Franca G. applies the findings of Doctor Masaru Emoto, who scientifically proved the power of positive thinking. Each creation has a name bearing a positive message. The person wearing the creation becomes a Franca G. ambassador and bearer of light.
Franca G. also draws on chromotherapy, meaning the virtues of each colour and the manner they act on our chakras.
So red symbolizes notably physical vitality, connection. Blue is the colour of communication, self-confidence. Green represents emotional stability, self-esteem …
This artist has received many testimonials from people who felt a genuine sense of betterment thanks to her paintings, clothes and accessories each encompassing the happiness she embraces when creating.
Regardless our origin, our culture, our lifestyle, Franca always triumphs by touching our humanity through her drawings, clothes and accessories.